2023 Audi Q4 E-Tron Review: New Ingredients, Same Recipe
Audi's mainstream electric future kicks off much like its past: building a luxury car off a VW foundation.
While the brand is generally considered of equal standing alongside BMW and Mercedes-Benz in the pantheon of German luxury carmakers, Audi's models often have arrived there in a slightly different way. Bimmers and Benzes, generally speaking, have been created with the express purpose of being luxury vehicles — which makes sense, as both have long been standalone companies without mass-market brands to work with or worry about (fairly recent developments with Mini and Smart notwithstanding).
Audi, however, plays upscale sibling to Volkswagen — and as such, it has often been asked to dip into the parent-company-slash-mainstream-brand's parts bin. Sure, Audi's high-end cars may benefit from aluminum chassis and exotic mid-engined layouts, but the mainstream models all made do with front-wheel-drive-based chassis based on the likes of the Golf and Passat and so forth.
Well, here in this moment where electric cars are finally finding their foothold and clawing towards inevitable government-mandated dominance, history is repeating itself once again at Audi. While the brand's first EVs — the E-Tron SUV, the E-Tron GT sports sedan — were derived from original parts and Porsches, those were high-end models meant for early adopters and brand superfans. The Q4 E-Tron, however, is meant for the mainstream — and, as such, shares much of what lies beneath the skin with Volkswagen's ID.4 crossover.
The Audi Q4 E-Tron looks pretty darn good
Style has long been one of Audi's defining principles, and the Q4 E-Tron does little to change that trend. It's certainly more stylish than its ID.4 sibling; where the VW is innocuous, even anonymous, the Audi looks aggressive and sculpted, with muscular haunches, sweeping lines and an aggressive, forward-angled D-pillar. (And if you want one that's even more aggressive, there's also a Sportback variant.)
It's a look that very much manages to seem in line with Audi's current design language, be it on electric cars or gas-powered ones; in twilight, where you can't tell that the front grille doesn't have any openings, you'd be hard-pressed to tell it from a Q3 or other ICE crossover from the brand. That seems liable to change with future Audis, according to the brand's execs — but hopefully there'll still be plenty to distinguish the four-ring brand's cars from other vehicles, be they VW or BMW, gas or electric.
The Q4 E-Tron drives well, in the usual electric car manner
Short of any specific, deliberate attempts to differentiate them from one another by a carmaker, modern electric vehicles tend to offer a similar driving experience: smooth yet brisk acceleration (courtesy the instant torque delivery of electric motors), a firm ride and planted feel (thanks to the heavy, low-mounted battery pack and the suspension needed to support that weight) and fairly numb but direct steering (for which you can thank or blame electric power steering systems).
My test car, a well-equipped Q E-Tron 50 Prestige Quattro model, came packing electric motors for both axles and a maximum output of 295 horsepower and 339 lb-ft of torque. (Rear-wheel-drive models make do with just 201 hp.) That's enough zip to sling this crossover forward with impressive results; it's not going to blow your hair back, but the immediacy and force of the response is enough to make you crack a smile.
Audi, blessedly, stilllets you deactivate the traction and stability controls, which gave me the chance to try and pitch the Q4 E-Tron around on some loose surfaces, revealing fairly neutral handling with an (admittedly expected) tendency towards understeer. Should you so desire, though, you can indeed drift this Audi along a snowy road the way a Quattro-branded car should.
Inside, it's fairly conventional for a modern Audi
If the Q4 E-Tron feels rather designed to blend in with the rest of the line from outside, it definitely feels that way from the cockpit. From the digital instrument panel to the glass pane of the MMI infotainment system to the welcome physical buttons for climate and the iPod Classic-style audio controller, you'd be hard-pressed to know which Audi you're in if you were blindfolded and dropped into a parked Q4 E-Tron.
It's also far more intuitive and simple than the VW ID.4 inside, which is borderline aggravating due to some of the odd choices made by the design team. Indeed, it might be worth spending the added money for the Audi simply for the logical temperature and window controls that the Vee-Dub lacks.
One way you might be able to figure it out, however: if you see a Sonos emblem on the speakers. The Q4 E-Tron is the first car to boast a stereo system boasting the well-known home audio brand's moniker — a 10-speaker, 580-watt setup. I'm no audiophile extraordinaire, and my usual in-car audio sources of SiriusXM and Spotify are hardly the sorts of high-def formats that make the most of great speakers, but to my ears, the Sonos platform packs similar punch and clarity to most mid-level in-car systems — which is to say, a definite step-up from the base setup. (And no, you can't pair it with your home speakers.)
Range can be something of a weakness for the Q4 E-Tron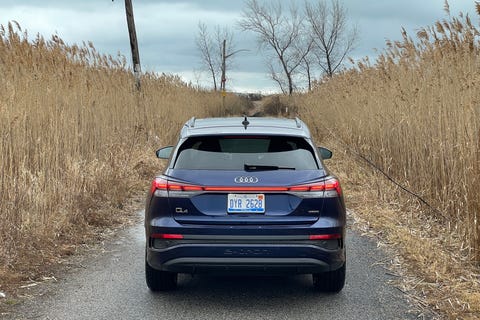 Ah, range anxiety: the bane of the electric car. Plenty of arguments have been made that it's overblown: most people don't drive very far very often, most trips start or end at home, fast charging networks are growing out rapidly. But the simple fact of the matter is, the sorts of batteries available for mass production simply can't come close to the energy density of gasoline. It takes close to half a ton of lithium-ion cells to move a 5,000-pound car the same distance as 60 pounds of refined black gold; that's just the math.
Automakers building EVs are finding workarounds; bigger batteries help, obviously, as do more aerodynamic bodies. Tesla's Model S, Mercedes-Benz's EQS, Lucid's Air, BMW's iX and i7 — they all successfully manage to combine those features and more to squeeze out more than 300 miles of range, putting them on equal footing with (at least some) internal-combustion cars.
The Q4 E-Tron, however, simply can't compete with the likes of those vehicles when it comes to going the distance. The EPA rates its real-world range at just over 240 miles; I saw closer to 250, but that was in more urban-centric driving. On road trips, where drivers are only likely to use 70 percent of the battery at once — fast chargers that generally are best suited to charging to 80 percent, and drivers likely want to leave around 10 percent in reserve in case they need to seek out a backup charge point — the Q4 E-Tron will realistically only be able to go around 180 miles before requiring a stop. At a steady 75 mph, that's less than two and a half hours.
The Q4 E-Tron plays in an increasingly busy segment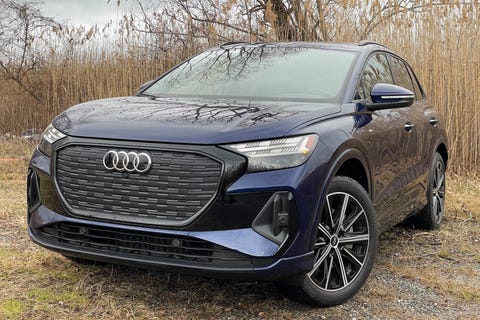 Given the popularity of crossovers in recent years, it's perhaps not surprising that carmakers have been pushing hard into the space with their first round of electric vehicles. As such, while the EV market overall remains a small section of the overall new car world, the small-to-medium-SUV category is one of the few places there's decent competition.
Mercedes-Benz offers the EQB SUV for similar money; it's more engaging to drive, but offers even less range (I saw under 200 miles with a full charge in a recent test). The Genesis GV60 is a close competitor and an excellent product, if a bit odd-looking; however, the GV70 Electrified is coming shortly for buyers who want something in a more traditional SUV shape. The Volvo XC40 Recharge and C40 Recharge pack a heftier punch for similar money, cranking out more than 400 hp. The Cadillac Lyriq is just a hair pricier, but offers a much more attention-getting design. And, of course, there's the Tesla Model Y, which has rapidly become the conformist's choice among electric car buyers
What the Q4 E-Tron, like the ID.4, has going in its favor is a generally normal, innocuous car vibe — but it blends that with the style and cache of the Audi brand. People who want to be known as EV people will likely keep seeking out Teslas, or Rivians, or even Mustang Mach-Es. But a lot of people don't want to make that sort of statement; they just want a car that doesn't spit out emissions and comes from a brand they like. For those folks, the Q4 E-Tron will likely be everything they desire in a compact crossover...assuming they don't mind stopping fairly often on road trips.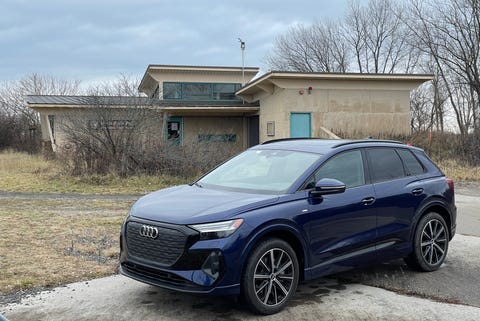 Base Price / Price as Tested: $50,995 / $64,095
Powertrain: 77-kWh (usable) lithium-ion battery pack + dual electric motors; one-speed transmission; all-wheel-drive (as tested)
Horsepower: 295 (as tested)
Torque: 33 (as tested)
EPA-Rated Range: 241 miles (as tested)
Seats: Five
The 33 Electric Cars We're Most Excited to Drive in the Future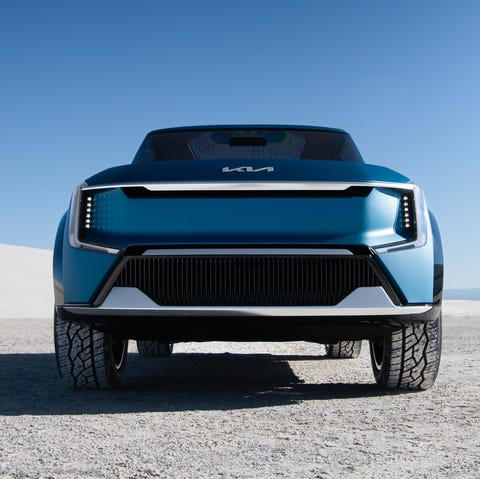 The next few years will be packed with new EVs. These are the ones that have us jazzed the most.